Protecting Temporary Work-Zone Traffic Areas with the RCF2.4 for Over 25 Years!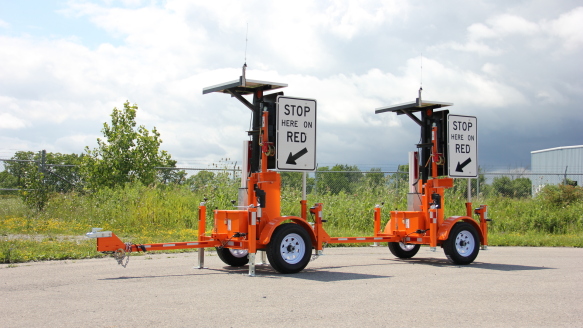 A recent document from 3M states that there are currently over 1 billion cars on the road globally. With this number estimated to double by 2040, a significant investment in infrastructural maintenance and upgrades will be necessary to ensure that those vehicles have the means to safely and efficiently reach their destinations.
Global Infrastructure Hub estimates that countries will need to invest $900 billion annually in roadway infrastructure to keep up with current demand, which means that we are poised to encounter many work zones over the next twenty years!
What We Talk About When We Talk About Work Zones
A work zone can be defined as any section of a road where work is being completed. These temporary zones can create several challenges for motorists, pedestrians, and workers, especially during the icy winter months, including speed, inclement weather, and lack of on-site safety equipment which can cost millions of dollars each year for construction companies.
Our Solution is Simple—AFAD
Using Automated Flagger Assistance Devices (AFAD) is one of the best ways to increase worker safety while also creating new efficiencies in temporary work zones.
Many governments and private contractors around the world have recognized the immense value of AFADs in overcoming the above challenges, using them in a variety of applications to move traffic safety and efficiently through work zones while also making job sites significantly more efficient and productive.
Our "flag"-ship model, the RCF2.4 is one of the best and most efficient ways to control traffic in temporary work zones.
Developed by North America Traffic over 20 years ago, the RCF 2.4 is still recognized as the safest alternative to human flaggers for temporary, short-term work zone traffic control. It is safe, simple, and reliable, making it ideal for use in a range of applications on temporary construction sites.
The objective of this device is not to replace the flagger but to allow the flagger to control traffic from a safe distance.
Safety First, Every Time
At North America Traffic, safety means everything to us. Studies show that when you remove flaggers from roadway danger, work-related fatalities are dramatically reduced.
Our team has spent the last 25 years developing flagging devices and portable temporary traffic signals which increase worker confidence, efficiency, and safety on job sites. Under the direction of our leadership team, we have continued to produce innovative products that reflect our commitment to quality, integrity, and, of course, customer safety.
A 2012 study by the American Traffic Safety Services Association (ATSSA) shows that 100% of workers surveyed in Maine who had used AFADs on 59 different construction projects recommended their use on other job sites across the state, including management and crew members who did not have direct contact with the devices.
Efficient Design
The RCF 2.4 has a single-head with gate-arm design for all your short-term flagging needs. It is intended to be operated by a Traffic Control Person via remote control from a safe location.
The device's user-friendly design, which takes less than five minutes to master, makes it a versatile solution for an array of construction and other work zone applications. With an eight foot, highly reflective breakaway gate arm and brilliant red and yellow LED lights, the RCF 2.4 AFAD is impossible to miss!
Powered by four six-volt deep cycle batteries which are supplemented by sustainable solar panels, the RCF 2.4 can function for up to 228 hours before a recharge is required.
In addition to the RCF 2.4's intuitive controller, remote operation, portability, and customizable features, all of our devices are compliant with the U.S. DOT's Manual on Uniform Traffic Control Devices (MUTCD), which sets the standards for all traffic control devices on streets and highways in the United States.
It is also compliant with the National Electrical Manufacturers Association (NEMA) TS-5 standards, which covers traffic signalling and equipment used to enable and expedite the safe movement of vehicle and other traffic through work zones.
Modern Solutions
At North America Traffic, we have your needs covered. Together, we can make work sites safer and more efficient for everyone. Get in touch with the North America Traffic team today to learn more about how our products can improve your work zone operations, or to find a dealer near you!
Tags:
|
Automated Flagger Assistance Device
|
Auto Flagger