Preventing Struck-By Incidents with Portable Temporary Traffic Signals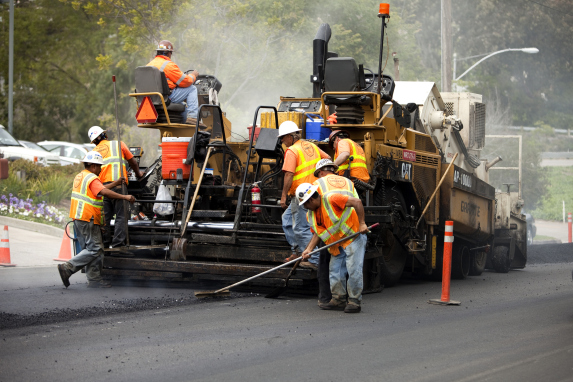 Although construction workers are exposed to more risks than some workers in other industries, individuals who work on roads, highways and bridges must contend with not only job-site hazards, but also risks that exist outside of the work zone, such as oncoming traffic, road rage and more.
In fact, research collected by CPWR The Center for Construction Research and Training revealed that "Nearly two-thirds of fatal construction injuries in 2019 were caused by the Construction Focus Four hazards," which includes not only workplace falls but also "struck-by" incidents where a moving vehicle or truck crashes into the work zone. And struck-by incidents are one of the most common causes of injury for workers in the construction industry. According to a 2021 data report by the CPWR, struck-by incidents involving a vehicle accounted for roughly 47% of struck-by-related fatalities within the construction sector.
Because of the high-number of struck-by injuries and fatalities, it's important for managers and employees to take action to protect themselves and others on work sites. Utilizing North America Traffic's portable traffic signals and AFADs can help reduce fatalities and improve worker safety by preventing struck-by accidents from oncoming traffic and on-site vehicles.
Increase Job Site Safety with Portable Traffic Signals.
Although the CDC noted that "construction workers have the highest rate of nonfatal struck-by injuries at 2.7 per 10,000 Full-Time Equivalent (FTE) workers," research shows that individuals who work on highways and roadways, such as crossing guards or as paving or surfacing equipment operators, have "the highest rates of fatalities per 100,000 FTEs" for struck-by incidents. Their proximity to the road increases their risk of encountering not only civilian vehicles, but also construction vehicles.
So, how do you limit a road worker's contact with the roadway vehicles? By integrating equipment that allows workers to perform their job in a safe and effective manner! And luckily, North America Traffic has made it easy for managers and workers to implement safe, easy-to-use traffic control products on their job sites. Our PTL2.4x portable temporary traffic signal can be used in conjunction with the AWF2.8 to optimize the flow of traffic and worker safety on both short- and long-term projects.
The PTL2.4x has a dual-head traffic light for increased visibility and boasts a 1.6 km radio communication radius for improved remote operation, which makes it ideal for use in intersections or roadways where workers or roads may be obscured. For additional safety, the AWF2.8 advanced warning flasher can be set up to communicate with our other traffic signal devices to warn drivers that they are approaching a work zone. The AWF2.8 captures the driver's attention and reminds them to slow down, stay alert and follow road work signs accordingly.
In addition to their mechanical compatibility, North America Traffic's products are designed to be:
Easy to set up: With simple set-up and tear down, these machines will save you time and keep you safe. Our easy install and programming features are designed to reduce errors and increase performance.
Energy efficient: All of our devices are equipped with a solar array to extend the longevity of your device.
Safe: Our products adhere to the standards outlined by MUTCD and NEMA TS-5 to ensure that they're easy to see, read and understand.
Safer Work Sites Start Here!
Don't wait for the end of summer to start making changes around your job site! North America Traffic's PTL2.4x provide construction companies with an effective way to prevent struck-bys on their job site. With the increase of summer traffic and road construction, our traffic control devices can help you reduce not only fatalities, but also injuries, that are caused by struck-bys. To book your free demonstration, or to purchase a product, contact North America Traffic today!