Improve Road Worker Safety and Visibility with the AWF2.8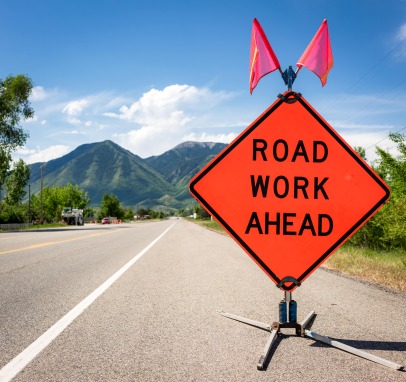 "We need folks to pay attention, minimize distractions and obey the rules when they're passing through a work zone to keep themselves safe and to keep our workers safe."
—Jason Bond, Virginia Department of Transportation (VDOT) spokesperson.
Summer is synonymous with more than just good weather—it also means that road work across North America is officially underway.
With a notable increase in the number of road work and construction projects, both workers and drivers must remain vigilant. To mitigate road work distractions and increase visibility on the road, workers can use the Advanced Warning Flasher AWF2.8 with other North America Traffic devices. Incorporating the appropriate safety devices and following safe work and driving practices will not only improve productivity, but also decrease the number of injuries, accidents and fatalities related to the work zone. Add an AWF2.8 to your existing Portable Temporary Traffic signal to provide improved visibility during the summer!
Safe Summers Start with Portable Traffic Signals!
If you and your crew are doing work in a residential or rural area, big trees and full leaves can obstruct drivers' vision of the road, which limits their ability to see your work site. Using the AWF2.8 can alert drivers to the presence of your work site and help them approach the construction zone with caution.
Here's how the AWF2.8 keeps workers safe:
Quick set up time to maximize worker efficiency.
Compatible with other North America Traffic products, which allows for maximum traffic control and worker safety.
Large LED lamps (12") positioned around the warning sign to improve visibility.
Distinct flashing pattern designed to attract motorists' attention.
North America Traffic's products are also designed to meet MUTCD and NEMA TS-5 standards, which assists professionals and employees in maintaining uniformity across work sites. And maintaining consistency across job sites isn't just for the benefit of workers—it's also beneficial for pedestrians and drivers who regularly read and abide by signage. Ensuring that traffic control signs and signals conform to the same standards allows citizens to easily identify, and react to, temporary traffic signals and signs.
The AWF2.8 can be used independently or in tandem with North America Traffic's other signaling devices to notify drivers that there is a work zone ahead, encouraging them to approach with greater caution and lower speed.
Looking for more ideas on how to stay safe in work zones? Check out our nighttime safety tips for workers and drivers here.
Make Job Site Safety Simple with the AWF2.8.
Help drivers stay alert and approach work sites safely by incorporating the AWF2.8 into your next project! This portable traffic signal acts as a buffer between workers and drivers by communicating that drivers are within close range to the job site. Contact North America Traffic today to get a head start on job site safety with the AWF2.8!