How Our Traffic Control Devices Can Increase Communication on Your Jobsite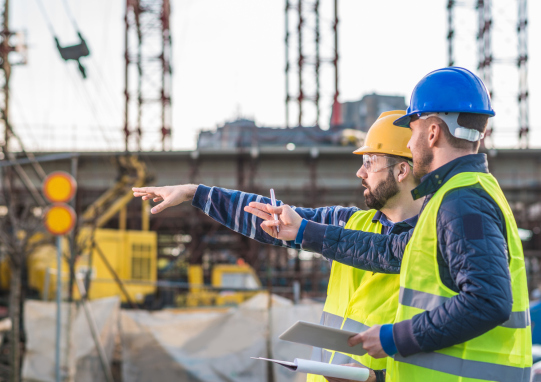 Jobsite Safety
As we adapt to operating businesses during COVID-19, workers, employers and governments must arm themselves with new safety procedures that complement existing policies and procedures. According to an article published on Construction Dive, companies can improve workplace safety by embracing new technologies, which will "empower construction companies to move forward safely and efficiently."
So, where can you integrate technology into your jobsite? At North America Traffic, it's our mission to develop products that improve not only safety, but also communication amongst workers. Communication is a crucial component of workplace safety, and we've designed our portable traffic signals and automated flagger assistance devices (AFAD) to help you maintain effective communication between devices with cutting-edge advancements in solar, LED, battery, and PLC technologies that work with you on the jobsite.
Using specialized radio communication, our Gen 2 and Gen 3 portable traffic signals work in tandem with each other to help you navigate challenging projects.
Effective Communication Starts with North America Traffic
It's no secret: communication is essential to a job well-done. And anyone who has worked on a construction site knows that clear communication from your supervisor, and coworkers, is essential for maintaining safety. At North America Traffic, we've designed our portable traffic signals to help support great communication, too. Our devices use radio signals for a strong connection across a construction zone to support your existing communication practices.
In addition to operating in extreme weather conditions, including low-light conditions, our portable traffic signals offer the following communication features:
1. The portable traffic signals rely on radio communication, which enables North America Traffic devices to communicate with each other.
2. Models PTL2.4X and PTL2.4LD can communicate up to one mile (1.6 km) away from signal trailers, so long as a clear line of sight is maintained.
3. Models RCF 3.4 and RCF 2.4 can communicate up to half of a mile (0.8 km) away if there is a clear line of sight between the signal trailers.
Depending on the complexity of your job site, your team may install and operate up to eight of the Gen 2 portable traffic signal trailers and up to 20 of the Gen 3 portable traffic devices to accommodate changing tasks, blueprints and infrastructure. When placed accordingly, your devices can communicate using radio signals to adjust to both the flow of traffic and the size of the road.
The user-friendly design of North America Traffic's portable traffic signals means any controller can be assigned the operating designation, which increases both compatibility and productivity with its easy-to-follow set-up. Workers can input information and adjust settings directly in the system and do not have to struggle with additional equipment, interfaces or attachments. Each of our portable traffic signals may be operated in an automatic mode or at a distance using a Hand Held Remote. Because our portable traffic signals can communicate wirelessly, you can maintain a safe distance from the construction zone while maintaining high levels of productivity.
Enhance Jobsite Communication
It takes a great team of managers, workers and supervisors to maintain the safety and integrity of a workplace. Protect the best interests of your employees and community with North America Traffic's range of traffic control products, which are designed to communicate at a long range to assist you in achieving long-term success. Connect with us today to improve communication on your worksite: you handle the communication with your team, and we'll supply you with the portable traffic signals!
Tags:
|
Traffic Control