The Portable Traffic Signal Ideal for all-season use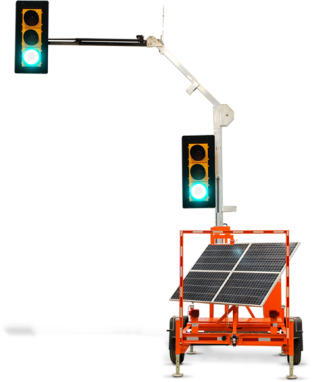 As an industry leader and innovator in Portable Temporary Traffic Signals, our commitment to safer construction zones is a priority 365 days a year.
Although research indicates that injury to construction and road workers is most likely to occur from June to October, when the weather is warmer, each of our products is designed and engineered for use in all four seasons.
In today's blog, we'll be taking a closer look at one of our all-season products, the PTL2.4X Portable Traffic Signal. With its dual light and incomparable performance under extreme temperatures, this portable traffic signal is optimally designed for year-round use.
The Reliable PTL2.4x Portable Traffic Signal
The PTL2.4x Portable Traffic Signal is designed for continuous operation for your long-term traffic control needs. It's engineered to ensure safety in a variety of work zones including lane closures, crossroads, and intersections.
Some of its key features include:
Outstanding durability: rated for -40° F to 176° F (-40° C to +80° C) temperatures. The PTL2.4X can also withstand winds up to 90 mph (129 km/hour).
Dual lights: the dual lights are designed to improve detectability during rain and snowfall. This increases drivers' visibility and prevents drivers from disrupting traffic or interfering with construction zones.
Solar-powered assist: the PTL2.4x demonstrates an improved battery life with a 400-watt solar array. It will work up to 30 days without solar assistance, making it ideal for low-light conditions.
Easy, one-person setup: the PTL2.4x's straightforward operation means installation is quick and efficient, saving you time and manpower.
Eliminates the need for human traffic controllers: the PTL2.4x can be operated autonomously, and unattended, greatly reducing the risks for human flaggers.
Why choose PTL2.4X for your work zone?
Even in the winter, workers on short-or long-term job sites are at the mercy of drivers and machine operators, which makes their work incredibly unpredictable and dangerous. But, with proper innovation and education, portable temporary traffic signals like the PTL2.4X can shield workers against everyday risks.
Our PTL2.4X has been carefully engineered to meet optimal safety requirements for today's projects and tomorrow's challenges.
Here are just a few of the ways our PTL2.4X can make your job site safer and more efficient:
Dual traffic heads demand attention: the PTL2.4x's dual traffic heads enable drivers to react and obey traffic signals much faster.
Increased productivity: team members will no longer be required to act as traffic controllers. Even those who monitor lights can do so up to a mile away from the job site.
Ability to withstand extreme weather: as we mentioned earlier, our PTL2.4x's are manufactured to thrive in all seasons. Regardless of rain or snow, you can count on this portable traffic light to keep workers safe.
Minimize Risk With Portable Temporary Traffic Signals
Controlling traffic is a dangerous job. On average, roughly 5,000 workers will die in a work-zone-related accident every year. Human flaggers are consistently put in danger when sent out to direct traffic at road construction sites. By keeping human flaggers out of harm's way, North America Traffic's portable temporary traffic signals offer a safer, more efficient way to control traffic.
In addition to keeping workers safe, a portable traffic signal does the following:
Prevents delay and disruption to public commuters.
Maintains a safe environment for the public, and the workers who pass through the work zone.
Offer a multitude of modes for various applications.
Keep workers, drivers and pedestrians safe all year long with the PTL2.4x
Don't risk the lives of workers or make pedestrians second-guess their own safety – equip your work zone with a temporary trailer mounted traffic signal.
As the leading design manufacturer of Portable Traffic Signals, North America Traffic's innovative solutions are designed to increase work zone safety without driving up costs or cutting into project time.
Contact us today to learn more about how we can help you make safety a part of your everyday operations.