Make Construction Safety a Priority this season with NAT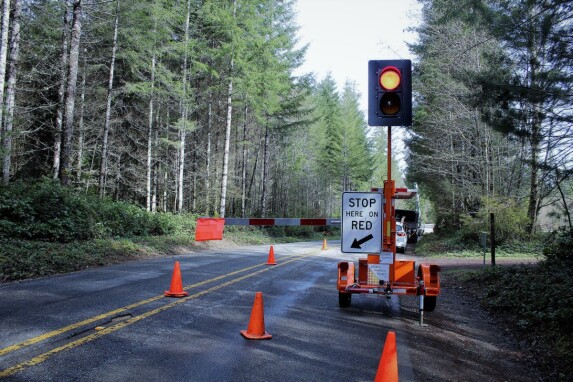 The spring marks the beginning of a new construction season. It provides crews across North America with a clean slate to start anew and do better than in previous years. According to the latest data from the Occupational Safety & Health Administration (OHSA), 4,764 workers died on the job in 2020. Workers in construction and extraction occupations accounted for nearly half of all fatal occupational injuries with 976 workplace deaths – let's make this season different by focusing on construction safety.
In today's blog, we'll explore several ways you can keep your crew and construction site safe and start this season off on the right foot.
Reflect on previous seasons and plan for the season ahead
Before you jump into the season ahead, reflect on the previous year. What worked well? What made those projects successful? By identifying how or why things went well, you can optimize those same techniques again in future projects. Another important step in planning for the upcoming season is ensuring all employee training is up to date. Many accidents and inefficiencies stem from improperly trained temporary workers. By providing your team with the latest training, you can ensure they're prepared for the season ahead and keep your construction site safe.
Wear proper PPE
Personal Protective Equipment (PPE) is one of the most important things you can provide your workers. Regardless of whether you're working on a quiet residential road or a downtown high-traffic intersection, the same safety rules apply. Every member of your team should know what type of PPE is required for their specific position and have it on before stepping foot on site.
Types of PPE your team may require this season:
Hard hats and steel-toed boots
Protective gloves and safety glasses
Reflective and brightly coloured vests for visibility
Respiratory protection
If cutting, grinding, or chipping, workers will require a full-face shield
Depending on the noise level, earplugs, earmuffs, or other hearing protection may be required
If working on elevated services more than six feet above the ground, workers must be provided guardrails, safety nets and other personal fall arresting systems
Designate a competent person to monitor the work zone
There's a lot happening in a work zone. Having a competent person to supervise all activities to ensure worker safety could provide significant benefits. According to the OHSA, a competent person is someone who is "capable of identifying existing and predictable hazards in the surroundings or working conditions which are unsanitary, hazardous or dangerous to employees, and who has the authorization to take prompt corrective measures to eliminate them." To reduce the potential of work zone hazards and accidents, a competent person conducts regular inspections of the worksite. They're also responsible for selecting the appropriate PPE to be used by workers and approving the appropriate types of traffic control devices for construction safety.
Implement a site-specific safety program
A site-specific safety program is an essential part of any construction project. Customized for each unique site and the specific challenges it brings, the plan is a blueprint that helps protect construction workers from unnecessary injuries and accidents.
A construction safety plan should include:
All work site hazards with plans to control and mitigate them
Schedules to routinely inspect all equipment and material
A plan for first aid and emergency medical care in the event of an accident
Safety training schedules for all employees
Protect flaggers with Portable Traffic Signals & Automated Flagger Assistance Devices
Working as a flagger is an incredibly dangerous job. Positioned in the middle of chaotic roadways and highway lanes, flaggers are forced to face a slew of risks. Fortunately, North America Traffic has two products that can make flagging operations a whole lot safer.
Portable Traffic Signal (Light Duty)
Shield workers from everyday risks with North America Traffic's PTL2.4LD Portable Traffic Signal (Light Duty). The PTL2.4LD completely eliminates the need for flaggers on short-term construction sites, significantly reducing the risks posed to workers in this dangerous profession. The portable lane control signal can be set up in minutes and is ideal for a variety of road work projects including lane closures, crossroads, as well as intersections. Another portable traffic signal that can make a big difference in the upcoming construction season is our AWF2.8 Advanced Warning Flasher. Designed to provide advanced warning of stoppages ahead to approaching motorists, this traffic signal ensures drivers are prepared and attentive to what lies ahead. The AWF2.8 can be used with North America Traffic's Gen 3 Portable Temporary Traffic Signals (PTTS) or independently.
Automated Flagger Assistance Device
The multitude of risks faced by flaggers is what prompted us to design the world's first Automated Flagger Assistance Device (AFAD) – the RCF2.4 Automated Flagger Assistance Device. The first of its kind, the RCF2.4 is designed to remove flaggers out of harm's way by allowing them to control traffic remotely. The user-friendly AFAD sports a single head with red and yellow LED lights as well as a reflective gate arm to improve visibility for drivers. Almost 30 years after its inception and the RCF2.4 is still recognized as the safest alternative to human flaggers for temporary, short-term work-zone traffic control.
Kick Off Construction Season with NAT
Make this construction season your safest yet with North America Traffic. Whether you're looking to equip your work zone with a portable traffic signal or an automated flagger assistance device, you can count on North America's leading design manufacturer to provide reliable and simple-to-operate solutions for traffic control and construction safety.
Contact us today to learn more about how our innovative products can improve your work zone operations for the upcoming season.