Customize Your PTL2.4X to Improve Winter Road Safety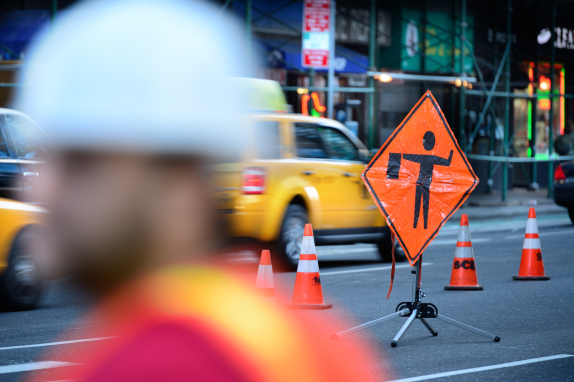 According to the OHSA website, over 5,000 workers were killed while at work in 2019. Unfortunately, of the thousands injured or killed, workers in the construction and roadwork industries make up roughly 20% of all accidents and fatalities. Although 2020's statistics will not be released until next year, the high volume of workplace injuries across North America is proof that worker safety needs to be a priority on every jobsite.
Don't wait for another injury or accident before improving your safety protocols—take action in 2021 by integrating North America Traffic's portable temporary traffic signals onto your jobsite! In addition to the PTL2.4x standard features, workers can maximize their road safety with optional features for their portable temporary traffic signal, including video monitoring and traffic sensors. Creating a safe workplace environment during the winter months will ensure that you and your team stay safe and on task.
Options for PTL2.4X
Although the PTL2.4X standard features are ideal for a variety of work sites and situations, project managers, workers and supervisors can customize the PTL2.4X to suit their needs, including the time of year, and the location and duration of the project.
In addition to its dual head, LCD display and solar assistance, here are three features that can be added to the existing PTL2.4X model to improve safety and efficiency on your job site:
1. Microwave Traffic Sensor (MTS)
2. Video Monitoring
3. Pre-emption
Microwave Traffic Sensors (MTS) will automatically identify approaching vehicles within a given area. Vehicles within a predetermined radius will trigger the MTS, which sends a signal to the traffic controller for a green service request, or green light. Since the device is rated for all temperatures, users can expect accurate and timely traffic detection in a variety of temperatures and road conditions. Operators can also control whether their MTS will be triggered by approaching or departing vehicles and may adjust the parameters and delay time according to road safety requirements, too. Adding an MTS will not only improve worker safety, but also optimize the flow of traffic to prevent accidents in the work zone.
Video Monitoring provides high-definition recording of your job site. In addition to viewing your portable temporary traffic signals, North America Traffic offers high-definition video monitoring equipment that will record your job site 24/7. Installing a video monitor can optimize road safety for your workers and help you secure your equipment.
Pre-emption prioritizes emergency vehicles that enter the job site. This specialized technology is specifically designed to detect emergency vehicles through both audio and strobe detection to ensure that emergency vehicles can safely pass through the work zone.
Audible Detection will detect Class 'A' Sirens (Yelp, Wail, Hi-lo) typically found on emergency vehicles. The detector will pick up the sound of the siren to determine the direction from which the vehicle is approaching. A signal is sent directly to the controller with a request for priority.
Strobe Detection uses sensors that are designed to recognize the specific "strobe" patten that is emitted from an emergency vehicle's lights. If the optical signal of the approaching vehicle matches the format programmed in the system, the detector will request priority for the vehicle.
We are pleased to offer a diverse range of options that consider not only flagger and worker safety, but also the safety of the community, too. Our temporary portable traffic signals can assist workers in maintaining a safe distance from emergency vehicles and enable them to get where they need to go. We invite you to visit the FAQ page on our website to learn more about our portable temporary traffic signals and their various applications.
Prepare for What's Ahead with North America Traffic
The past year has been filled with a lot of uncertainty. Our mission is to provide our customers and their communities with the security they need to keep moving, which is why our portable temporary traffic signals are manufactured with technology that can help you see what's coming. Contact us today to prepare yourself for what's ahead!
Tags:
|
temporary portable traffic signal
|
Options