Weather is unpredictable - worker safety shouldn't be.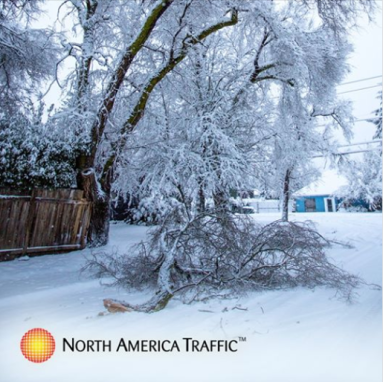 Safety is always in season at North America Traffic. With the PTL2.4X Portable Traffic Light, roadside workers are provided with safety and durability at all times of the year.
For some of us, winter's arrival is welcomed with time-tested traditions, recipes, and beloved radio tunes. For those who work on construction sites, plummeting temperatures and dwindling daylight hours mean more unpredictable weather, site and road conditions in high-risk, high-traffic areas. As an industry leader and innovator in Portable Traffic Signals, our commitment to safer construction zones is our priority 365 days a year—and that's exactly what our products are designed to do.
Did you know? In 2018, The Center for Construction Research and Training's CPWR Quarterly Data Report estimated that between 2011-2016, 532 workers were killed on road construction sites alone. The greatest threat was posed to Flaggers, who accounted for 41 deaths out of 100,000 work-related deaths each year: a staggering statistic for a single occupation. Although injury to construction and road crew is most likely to occur in June-October, when the weather is milder, we've developed and engineered our products to be utilized year-round.
The PTL2.4X Portable Traffic Signal features a dual light and unmatched performance under extreme temperatures, making it ideal for all-season use.
Details
The PTL2.4X dual head temporary traffic signal is a must-have on any long-term construction site.
Outstanding durability: rated for -40°F to 176°F (-40°C to +80°C) temperatures. The PTL2.4X can withstand winds up to 90 mph (129 km/hour).
Dual lights: designed to improve detectability during rain and snowfall. This increases drivers' visibility and prevents drivers from disrupting traffic or interfering with construction zones. It will keep both your team and civilians safe.
Solar-powered assist: The PTL2.4X boasts an improved battery life with a 400-watt solar array. The PTL2.4X will work up to 30 days without solar assistance, making it ideal for use in low-light conditions.
Easy, one-person set up: straightforward operation means installation is fast and efficient, saving you time and manpower.
Eliminates the need for human traffic controllers: the PTL2.4X can operate autonomously, and unattended, ultimately reducing risks for would-be flaggers.
Succumb to safety not to statistics!
Reconsider your approach to projects.
Implementing a portable traffic light is just one of the many preventative measures available to make work sites safer. The CPWR Data Report revealed that, between 2011-2016, 50% of documented construction-site deaths occurred when a vehicle hit a worker (non- occupant of vehicle). These statistics prove overwhelming and alarming for any business owner or supervisor, and it's difficult to know where to start when it comes to worker safety.
We are proud to have 20+ distributors in North America who are helping construction crews from San Ramon, California to Grandville, Michigan, make construction sites safer for everyone with products like the PTL2.4X. For example: work on a two-lane bridge might require you to disable traffic lights and block one lane of traffic. As a result of the lane closures and poor visibility, workers, especially flaggers, are vulnerable to drivers who are distracted, impaired, or disobeying traffic laws. Protecting flaggers by installing a portable traffic light is just one way to prevent injury, accident, or fatality of workers on your job site.
Here's what happens when you make a single change with the PTL2.4X:
Increased productivity on job site: team members won't need to act as traffic controllers. In fact, even those who monitor the lights can do so remotely, up to a mile away from the jobsite.
Civilian vehicles had fewer accidents: The PTL2.4X's dual traffic heads enabled drivers to react and obey the traffic signals much faster than before, making them and workers safer.
Dependability: the PTL2.4X's rotating solar panel meant that, depending on the day, team members can adjust the panel to collect more energy, allowing for 365 days of operation.
Optional: video detection, traffic sensors, and emergency vehicle pre-emption to safeguard against unpredictable circumstances.
Durability: The PTL2.4X's durability has amazed workers with its ability to withstand all sorts of weather. Its sturdiness during windstorms prevents potential accidents because it stays operational and won't topple over into on-coming traffic.
At North America Traffic, we understand first-hand the tumultuous relationship that North Americans have with roadside construction. You deserve the best-engineered technology to optimize security and efficiency on your job site. What are you waiting for? Keep your workers, drivers and pedestrians safe on the streets with the PTL2.4X! Let us help you make the first step toward building a better workspace.
Want to learn about additional strategies you can employ to make construction sites safer? Visit OSHA's website or find additional recommendations here.