5 Tips for Safety First Traffic Control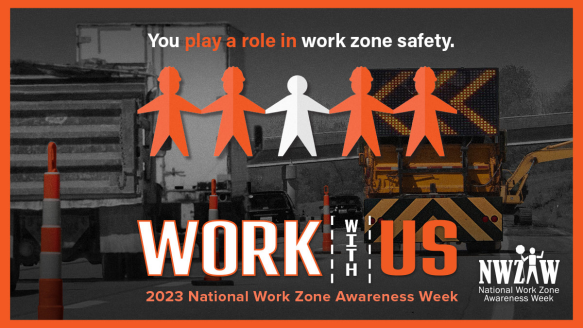 As National Work Zone Awareness Week (NWZAW) approaches, we thought it would be a good time to remind you of the dangers work zones pose for drivers and workers alike. Construction zones are inherently dangerous places – they're full of fast-moving machinery and unpredictable traffic, with workers having to constantly be on their toes to keep themselves safe. But it doesn't have to be this way. With careful planning and communication between all parties involved, everyone can stay safe and protected. In today's blog, we'll be sharing five tips to ensure safety-first traffic control that you can put into action as early as tomorrow.
1. Establish a traffic management plan
Construction projects are dynamic and unpredictable by nature. They require a great deal of planning, coordination and communication between the different parties involved. For this reason, it is important to establish a traffic management plan. A traffic management plan should be established at the beginning of each project and should include all relevant details, including its duration, location, site layout, access points and how traffic will be managed. As work progresses on your construction project, your traffic management plan may need to be adjusted to accommodate any changes made on-site. Be prepared to make alterations to the initial plan as needed and ensure that all workers are kept up to date.
2. Have a competent person on site
In the construction industry, it's vital to have a competent person on-site. So vital, in fact, that most worksites employ more than one. A competent person, according to the OHSA is someone "who is capable of identifying existing and predictable hazards in the surroundings or working conditions which are unsanitary, hazardous, or dangerous to employees, and who has the authorization to take prompt corrective measures to eliminate them." Oftentimes a supervisor, a competent person, serves as an overseer of the whole project to ensure that the job is done right. They can also ensure that you are complying with all the required safety regulations as well as any other necessary procedures.
3. Maintain communication
One of the most important elements in maintaining safe work practices is a clear line of communication. When workers are unable to communicate with one another, the likelihood of accidents increases, and it becomes difficult to maintain a safe environment. Whether it be hand signals, the use of radios, or a combination of the two, supervisors and workers must agree on the appropriate communication protocols to ensure their safety. Drivers must also be communicated with throughout the entire process. Signage, bright vests, flashing lights, arrows, apps sending alerts about work zones or lane closures – the more you can do to let them know what they can expect, the more time they'll have to plan their trip accordingly and avoid getting caught in unexpected traffic jams or accidents.
4. Provide Workers with up-to-date training
The construction industry is a fast-paced, ever-changing one. The tools used are constantly evolving, and so are the safety standards that workers must follow. While some companies may find it difficult to keep their workers up-to-date on the latest developments in their field, providing training is one of the best ways to ensure your workers stay safe on the job. Investing in the latest training guarantees that you are using the best practices in your industry, which keeps your team and the public safe while ensuring your projects run smoothly.
5. Utilize traffic control devices
Traffic control devices are an indispensable part of any construction project. They serve to provide a safe environment for workers, pedestrians, and other road users by establishing boundaries around the worksite and by providing directions for vehicles entering or leaving the work zone. Traffic control devices include everything from signs and pavement markings to temporary guideposts, such as cones or barrels, and are often used in conjunction with construction flaggers. Here are a few examples of traffic control devices commonly used in safety-first traffic control:
RCF 2.4 Automated Flagger Assistance Device
North America Traffic's RCF 2.4 Automated Flagger Assistance Device (AFAD) controls traffic while keeping workers out of harm's way. The first of its kind over 20 years ago, the RCF 2.4 AFAD is still recognized as the safest alternative to construction flaggers for temporary, short-term work-zone traffic control. Rather than risk the safety of the Traffic Control Person, the AFAD is operated by a traffic control person via remote control, from a safe location. The RCF2.4 allows for traffic to flow smoothly while ensuring there are fewer safety risks for the traffic control person.
PTL2.4x Portable Traffic Signal
Many road construction projects need portable traffic signals, and none do it better than North America Traffic's reliable and versatile PTL2.4x Portable Traffic Signal. Engineered for safety in work zones, crossroads, and intersections, the PTL2.4x is ideal for continuous operation, perfect for your long-term traffic control needs. It's easy to set up, easy to use, and incredibly durable – which makes it an excellent choice for your next construction project.
Participate in NWZAW for more safety-first traffic control tips
National Work Zone Awareness Week is back with its 2023 theme: "You play a role in work zone safety. Work with us." The annual spring campaign, held at the beginning of each construction season, aims to encourage safe driving through work zones. This year's event runs from April 17-21 and is hosted by the Missouri Department of Transportation (MoDOT). NWZAW invites individuals across the country to participate in their weeklong commemoration aimed at promoting safety in work zones. Learn more about NWZAW and how you can participate here.
Let North America Traffic be a part of your traffic control solution
For over 25 years, we've been the leading design manufacturer of portable traffic signals and automated flagger assistance devices, providing our industry with innovative, focused, and safe solutions for traffic control. Whether you're in need of AFAD traffic control solutions or portable traffic signals, North America Traffic can help provide you with safety-first traffic control systems suitable for every project. Contact us today to get started, or request a quote here.