Why Traffic Management is Vital to Special Events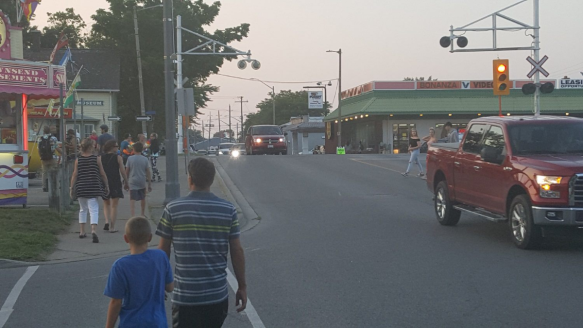 Summer is here, and with it comes a whole host of outdoor events– from concerts and festivals to sporting events. And although each of these events is incredibly unique from the next, they do share one thing in common: their ability to draw in huge crowds of people.
If unequipped to safely handle these mass amounts of people, event operators could find themselves treading dangerously. Fortunately, with the right event risk management, managers can ensure the safety of all volunteers, vendors, and pedestrians.
Today, we'll be discussing how event traffic management can help you make the most out of your next event – rain or shine!
Common Risks Associated with Event Traffic
With drivers rushing to find parking to make it to the baseball game before the umpire calls "Play Ball!" and pedestrians frantically speed walking to concerts before the opening number walks onstage, it's no surprise that events and their surrounding traffic are home to a multitude of risks. Thus, the importance of event management cannot be overstated.
Here are a few examples of the risks common at special events:
Car accidents
Pedestrian injuries from slips, trips, falls or vehicles
Blockages that prohibit emergency vehicles from getting where they need to go
Crowd management issues, which can lead to injury and security risks.
The good news is many of these can be prevented with the appropriate planning and risk management plan. Having a comprehensive event management plan is the best way to reduce the risk of injuries, damages, and liability. When you have a plan in place, you can be sure that all those attending your event will have a positive experience and that you're doing everything you can to keep them safe.
A detailed event risk management plan also helps volunteers become more aware of their surroundings so they can react quickly to changing conditions. This reduces accidents and ensures everyone can return home safely at the end of the day.
Key Components of Every Event Management Plan
While each event management plan will vary from one event to another, all generally include an emergency plan, medical plan, environmental considerations, tests and inspections, and a traffic management plan.
Let's take a look at each of these sections in a bit more detail:
Traffic Management Plan
Special events can significantly impact traffic in the area, which can directly impact your attendee's ability to get to your venue and back home again.
Nearby roads may be congested, there's likely to be limited parking, and sidewalks and bike lanes will be swamped, leaving pedestrians and cyclists with no option but to dangerously navigate their way through other types of traffic. A safe and effective traffic management plan that carefully outlines all transport arrangements is vital to ensuring your event goes off without a hitch.
The first step in developing your traffic management plan is to identify any deficiencies in the current traffic system. Once those have been distinguished, begin developing a plan detailing traffic, parking, and pedestrian operations on the event day. Consider the following factors:
Traffic flow and alternative transit. Map out how traffic will flow into the venue's parking areas. Factor in alternative transport like shuttle buses and rideshare areas. Determine how they will reach designated parking areas and be sure to include that in your traffic flow plan.
Parking. You may have to improvise on parking spots. Consider using flags or cones to designate spots.
Roadway signage and problem intersections. Use appropriate signage, portable traffic signals and automated flagger assistance devices to direct drivers where they need to go. It's also not a bad idea to utilize signs warning other motorists of upcoming road congestion as a result of the event.
Pedestrian and volunteer safety. Ensure walkways into the venue are properly lit and be sure all volunteers are fully aware of the event traffic management plan prior to the event.
But it doesn't stop there– monitoring the traffic management strategy as the event goes on is critical to its success. Monitor all aspects of the developed event traffic management plan during the event and make changes as needed. This should result in smooth traffic and an optimal experience for all, whether they're attending your event or just driving by.
Emergency Plan
An emergency plan is an essential component of any event management plan. It ensures that you are prepared for any situation that may arise and can ensure the safety of all those attending your event.
The emergency plan outlines the procedures to follow in the event of an emergency. It should include details about evacuation routes and assembly points, as well as instructions on how to respond in case of fire or other emergencies.
Medical Plan
Prior to hosting any event, it's important to have a medical plan in place.
For smaller events, this plan may be quite simple, requiring a few first aid kits and/or having trained responders on-site. However, larger events may require a more comprehensive plan that covers everything from allergic reactions to burns and fractures.
Environmental Considerations
As an event manager, you have a responsibility to the environment. The impact of your decision-making is far-reaching and can have lasting impacts on your community.
Before you finalize anything for your event, consider its effect on the environment. Be mindful of factors like noise levels, waste management and removal, sufficient sanitary facilities and provisions, as well as restoration.
Tests and Inspections
In the event management industry, safety is a top priority. That's why before, during and after an event, a series of tests and inspections are performed under the direction of an authorized Safety Officer.
These inspections are mandatory for all events held in public spaces. They include checking for any fire hazards, ensuring proper water supply, inspecting for any hazardous materials and ensuring that a sufficient number of first aid kits are available.
Minimize the risks at your next event with NAT Signals
Reduce the risks at your next special event with North America Traffic's dynamic traffic control systems. Easy to set up, portable and reliable, our line of portable traffic control solutions can help ensure your next event runs smoothly and attendees are kept safe. Whether you're looking to control pedestrian traffic, vehicle traffic, or both, we have the solution for you!
All of our systems are also solar-assisted and equipped with deep-cycle batteries, which means they can be deployed virtually anywhere. To learn more about how our Portable Traffic Signals can assist with your next event, contact us today or request a quote here.