North America Traffic Keeps Workers Safe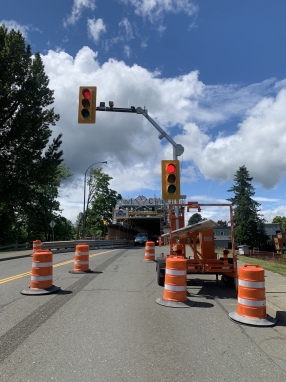 A little over a month ago, yet another flagger was seriously injured after being struck by a vehicle. According to authorities, the flagger was along U.S. Route 19 in Lewis County directing traffic around a vehicle being loaded into a flatbed truck when they were struck by a commercial vehicle. The flagger was seriously injured and transported to a local hospital. Unfortunately, this recent accident is not uncommon. In 2020, over 102,000 work zone crashes were estimated to have occurred resulting in over 45,000 injuries and 857 fatalities, according to the National Highway Traffic Safety Administration. Based on these statistics, it is clear that the safety and well-being of flaggers has yet to be taken seriously.
In today's blog, we'll be exploring the harsh reality so many flaggers face and how North America Traffic can be a part of the solution.
Flaggers: the unsung heroes of the road construction industry
Traffic can be dangerous for anyone, but for flaggers, it's even more so. Positioned in the middle of hectic roadways and highway lanes, flaggers are forced to face a multitude of risks. According to The National Institute for Occupational Safety and Health (NIOSH), from 2003 to 2020, 2, 222 workers lost their lives at road construction sites, which works out to a startling 123 road workers per year. Among these fatalities, transportation events accounted for 73 percent, and in more than half (63 percent), the worker was struck by a vehicle.
Why a Flagger's workplace is hazardous
Advanced warning signs don't apply to distracted, inattentive, and impaired drivers. This gives way to a workplace environment that is incredibly hazardous to flaggers.
Speeding drivers: Drivers going well beyond the speed limit are unable to stop in time to avoid an accident when approaching a flagger station. This also means the flagger on duty has less time to react and get out of harm's way.
Impaired drivers: Impaired drivers demonstrate slower reaction times. This hinders their ability to stop within a safe distance and redirect their vehicle to avoid hitting a flagger.
Distracted drivers: Distracted drivers take their eyes off the road for about 5 seconds every time they send/receive a text. While this may not seem like a long time, its effects can be detrimental. Consider this: At 50 mph, a vehicle travels 366 feet in 5 seconds, which is about the length of a football field. A matter of seconds is all it takes for drivers to miss advanced warning signs and fail to see a traffic control person.
What traffic control workers can do to decrease fatalities and injuries?
Both employers and workers are responsible to do their part in reducing injuries and fatalities. Let's take a look at the several ways each party can decrease work zone crashes.
Wear high-visibility clothing: When in and around work zones, workers should always wear high-visibility clothing to ensure drivers can see them from a variety of distances.
Stay alert and focused: Flaggers must remain alert at all times. Situations can change very quickly.
Plan an escape route: Think ahead and know where you'll move if a motorist drives too close.
Don't make assumptions: Never assume that a vehicle will stop until it has actually come to a full and complete stop.
What management can do
Use alternative project plans: Consider alternate ways to perform road and highway work so that flaggers aren't needed for traffic control.
Ensure Flaggers have appropriate certification and provide ongoing training: Doing so ensures certified flaggers have the knowledge required to perform their job safely and correctly at all times.
Use protective barriers: Employers should optimize protective barriers to shield flaggers from imposing vehicles.
Never place flaggers out of sight: Don't place flaggers around a curve, over a hill, or in a location invisible to oncoming traffic.
Keep flaggers safe with AFADs
While the above tips may limit the number of flagger accidents, there is one solution that dominates – Automated Flagger Assistance Devices (AFADs). In a typical flagging operation, flaggers are located at each end of a lane closure and use stop/slow paddles to direct traffic while positioned in the travel line, which as you know, places them at great risk. AFADs are designed to remove flaggers out of harm's way by allowing them to control traffic remotely. And they work! According to research collected in Maine, 100 percent of workers who used AFADs on 59 different construction projects recommended that additional AFADs be purchased for other job sites across the state. Even management and crew members who didn't use AFADs felt that the devices were vital.
Outfit your worksite with NAT's Flagging Devices
At North America Traffic, we offer two flagging devices that can help mitigate the risk flaggers face. The RCF2.4 Automated Flagger Assistance Device is safe, simple and reliable, making it ideal for temporary construction sites. It sports a single head with red and yellow LED lights and a reflective gate arm to improve visibility for drivers. It's designed for fast set-up and its intuitive controller allows workers to control it from a safe distance. The PTL2.4LD Portable Traffic Signal (Light Duty) eliminates the need for flaggers on short-term construction sites altogether. The portable lane control signal is ideal for a wide variety of road work projects and can easily be set up by a single worker in minutes. Both flagging devices will help you create a safer worksite while saving you time and money on work-related accidents or mistakes.
North America Traffic: the leading design manufacturer of traffic control solutions for over a decade
As an entrepreneurial venture founded on the creation of the world's first Automated Flagging Assistance Device, you can always count on North America Traffic to provide reliable, simple-to-operate, and versatile solutions for traffic control.
To learn more about our expansive line of products, request a quote, or find a dealer, contact us today.
Tags:
|
Automated Flagging Device
|
Automated Flagger Assistance Device