Labour Shortages are no Match for our Innovative Solutions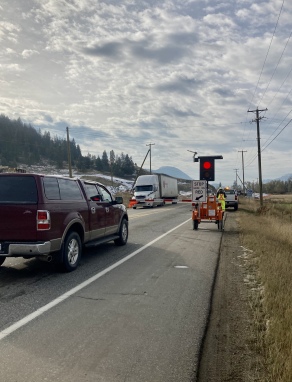 A stunted labour force and ongoing supply chain disruptions are giving way to a host of recruiting challenges for the construction industry.
Thankfully, North America Traffic has the solutions. Both the RCF2.4 and PTL2.4LD can help your company stay on the job, on time and on budget. Before we explain how our portable temporary traffic signals can ease current labour shortages, let's review what's been happening in North America's construction sector.
Record high job vacancies coupled with an increasing demand
Construction companies across North America have been feeling the pressure as of late. Increased demand and record-high job vacancies have forced some to delay or even cancel projects.
In its latest report, Statistics Canada detailed all-time high job vacancies in the construction sector, with employers actively seeking to fill 81,500 vacant positions in the first quarter of this year. This number is up 7.1 percent from the previous quarter and has more than doubled what it was prior to the pandemic.
According to Employment and Social Development Canada, demand is likely to remain high as the industry looks to recruit 309,000 new construction workers over the next decade. This mass hiring is largely in part of the expected retirement of 259,100 workers, which comprises 22 percent of the industry's current labour force.
Keep up with industry demands with North America Traffic
With the demand for construction expected to remain at or near current levels throughout 2023, it's undeniable that the industry is in desperate need of achievable solutions. Fortunately, North America Traffic's Automated Flagger Assistance Device and Light Duty Portable Traffic Signal can help this industry meet increased demands while keeping workers safe.
RCF2.4 Automated Flagger Assistance Device
The RCF2.4 Automated Flagger Assistance Device (AFAD) is a mechanical device that can be used as an alternative to a flagger with a stop/slow paddle and allows one operator to control two-way traffic in one lane from a safe location. Best suited for temporary, short-term traffic control, the auto flagger assistance device features a 2-section signal housing coupled with a gate arm/stop-bar that raises and lowers in harmony with the signal's lights.
How can the RCF2.4 help with labour shortages?
North America Traffic's AFAD effectively warrants contractors to mitigate the risk of labour shortages. Rather than having two flaggers on site, the RCF2.4 only requires one, allowing companies big and small to save costs through labour efficiency.
Recognized as the safest alternative to human flaggers, the traffic control device also ensures worker safety and greatly reduces employee turnover. With the RCF2.4, you're guaranteed to have your flagging operation show up for work.
PTL2.4LD Portable Traffic Signal (Light Duty)
The PTL2.4LD is designed for continuous operation and ensures safety in a variety of work zones including lane closures, crossroads, and intersections. The Portable Flagger Light mimics a permanent traffic signal with 3-section signal housing and unlike the RCF2.4, it doesn't require manual operator intervention.
How can PTL2.4LD help with labour shortages?
The PTL2.4LD completely eliminates the need for a human flagger, which means there is one less position you need to worry about filling.
The traffic signal can be left to run unattended, communicating and cycling on pre-programmed timing settings, which can be changed "on the fly," allowing you to seamlessly control traffic for up to 21 days without requiring a charge.
The user-friendly Portable Flagger Light also works to prevent traffic delays and disruptions while maintaining a safe environment for those passing through the work zone.
Never miss out on a project again with our Automated Flagger Assistance Devices and Portable Traffic Signals
Don't let your company miss out on the construction industry's current expansion – outfit your work site with North America Traffic's portable temporary traffic signals.
Our product line can help alleviate current labour shortages and ensure your job site is traffic safe and efficient. Contact us today to learn more about how our innovative solutions can help ease labour shortages.