How the PTL2.4x can Increase Safety in Intersections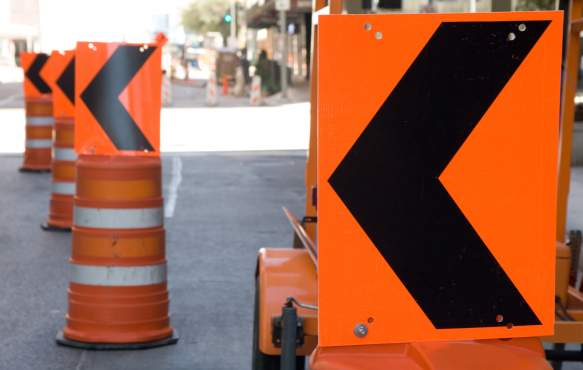 Traffic lights and intersections are a familiar part of our lives: whether you're waiting for a light to change or navigating through town, intersections and traffic lights make up vital infrastructure. In addition to maintaining the flow of traffic, intersections are also designed to make driving and walking safer for our communities.
But what happens when one of those lights stops working? Or if a laneway needs to be closed for an extended period? Consider, for example, the bustling intersection that sits between East Chester and Flatbush in the City of Kingston, NY, which in 2015, was used by 20,000 people per day. Or the busy intersection that connects Centennial Parkway and North Fifth Street in Las Vegas. How might project managers maintain the safety, efficiency and usability of these intersections for short- or long-term projects?
Today, we'll be examining two, real-life examples of North America Traffic's portable traffic signals in action! Whether you need to replace an existing traffic light or require an effective solution to maintain the flow of traffic in an intersection, the PTL2.4x is your solution! These featured projects show how portable temporary traffic signals can improve safety and efficiency for workers and citizens alike.
How Portable Traffic Lights Support Short- and Long-Term Road Projects
Our portable traffic signals have been used across the continent to replace existing traffic lights on various road projects. And, while they're also known as temporary traffic signals, the PTL2.4x can be used for short and long-term projects. Here are two examples of short-and long-term projects that benefitted from the PTL2.4x's versatile features.
1. A Long-Term Solution in Las Vegas: This segment of Ken's Cone Zone highlights the long-term use of two temporary traffic signals (PTL2.4x), which had been used for over ten years at a North Las Vegas intersection! The intersection, located between Centennial Parkway and North Fifth Street, relied on the PTL2.4x for daily traffic control while the city made plans for a permanent replacement. In this scenario, the temporary traffic signals' semi-permanent presence illustrates the reliability and functionality of the PTL2.4x!
2. A Short-Term Set-up in New York State: After a 30-year-old traffic light controller failed, Kingston City's engineer, Ralph Swenson, knew he had to act fast to come up with an up-to-date solution that would keep traffic flowing, and citizens safe, while he developed a new plan to improve the existing site. Swenson chose to use North America Traffic's model PTL2.4x to control traffic in the intersection and purchased four units to control traffic coming from each direction. The portable traffic signals were delivered in one week, and Swenson and his team were able to program the units to synchronize automatically. The result? Safe and effective traffic control with minimal interruptions!
Notable Features of the PTL2.4x
The PTL2.4x offers an array of useful and easy-to-use features, which makes it ideal for short- and long-term traffic control, as evidenced from the above scenarios.
Here are just a few of the features that make the PTL2.4x an asset on any jobsite:
Dual-head traffic light for improved visibility.
Compliant with current MUTCD and NEMA TS-5 standards.
Easy set-up. Its user-friendly design allows individuals with minimal traffic knowledge to set up and activate the portable traffic signal.
Multiple units can be used on a single site, which is vital for job sites that pass through intersections and driveways.
Solar panels work to provide up to 30 days of continuous operation.
Designed for a variety of temperature and weather conditions.
And, in addition to the PTL2.4x and its many features, customers can enjoy ongoing service support that will ensure every traffic signal is operating properly. Access to our knowledgeable team will ensure that you have the confidence you need to use your device in a safe and effective manner.
Make Your Intersection Safe with the PTL2.4x!
Using the PTL2.4x in conjunction with safe worksite habits can increase not only worker safety but also driver safety, too! Using the proper signage and equipment, like the PTL2.4x, will ensure that intersections can operate in a safe manner during spring construction season. Make intersections safer in your community by contacting us today or finding a dealer near you!