Curbing the Recent Uptick in Flagger Deaths and Injuries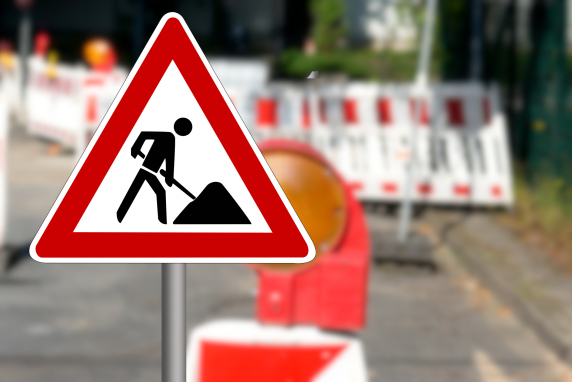 Construction flagger safety has been an issue for years, and we all know it. But recently there has been an alarming surge in the number of construction flaggers injured and killed on worksites across North America.
These numbers have raised serious concern, and we're here to help you understand why. Today's blog will explore this unsettling trend and what you can do to keep curb these devasting figures and improve worker safety.
A dangerous trend peaking in the wrong direction
Flagging has always been an inherently dangerous profession. But over the past six months, it's become even more so, as flagger fatalities and injuries began to spike.
In March, an interstate crash at a work zone in Maryland took the lives of six highway workers. According to the National Transportation Safety Board, two motorists were driving faster than the posted 55 mph speed limit when one of the drivers hit the other, resulting in the adjacent driver spinning out and entering an opening in the concrete barriers. Before coming to a stop, the vehicle struck several construction materials and six nearby workers, including a father and son– all of whom, were killed as a result of this horrific accident.
Just a few months later in June, as construction season began to ramp up, a handful of flaggers across North America began to face serious injuries. One such traffic control person was seriously injured after a hit-and-run.
While diverting traffic from a road in Oxford Township, a frustrated and impatient driver began arguing with the flagger about whether they should be allowed to travel down closed the road. After the flagger repeatedly denied the motorist's request, the driver grew increasingly agitated, approaching closer and closer in his vehicle, until eventually running over the flagger and speeding off down the road.
And weeks later, over in North Carolina, the life of a 23-year-old flagger was taken. The victim and another flagger, who was taken to a nearby hospital for treatment, were moving traffic cones when a 2019 Chevy Equinox hit them, according to N.C. Highway Patrol. A third flagger holding a stop sign, motioning drivers into the laneway was reportedly almost struck.
The driver of the Equinox failed to follow the rest of the traffic that merged into the other lane. As a result, they were charged with the misdemeanour death caused by a vehicle and without decreasing speed to avoid colliding with a person.
Unfortunately, these incidents are not isolated. According to the National Institute for Occupational Safety and Health (NIOSH) from 2003 to 2020, 2,222 workers lost their lives at road construction sites. This means that each year 123 road workers were unable to return home to their loved ones. Among these fatalities, transportation events accounted for 73 percent, and in more than half (63 percent), the worker was struck by a vehicle.
Improve worker safety with temporary traffic control signals
Despite hefty fines and cones, construction flaggers continue to be struck, often by distracted drivers. Even with high-visibility clothing, PPE, and protective barriers, construction flaggers still face grave danger when placed in the middle of traffic.
Improve worker safety, increase productivity, and reduce costs with temporary traffic control signals. When used in combination with other safety controls, they can help greatly reduce the risk of workers being struck by moving vehicles.
In standard flagging operations, traffic control persons are located at each end of a lane closure and use stop/slow paddles to direct traffic while positioned in the travel lane, which as you know, places them at significant risk.
That's why North America Traffic spent years perfecting a line of user-friendly flagging devices designed to remove your traffic control persons from this threat. Both our Automated Flagger Assistance Device and Portable Traffic Signal Light Duty are capable of making your flagging operations safer and more efficient.
RCF2.4: Automated Flagger Assistance Device (AFAD)
Automated Flagger Assistance Devices, like North America Traffic's RCF2.4, are designed with flagger safety at the forefront. These devices allow traffic control persons to manage traffic remotely, away from the chaos of moving vehicles.
The RCF 2.4 sports a single-head, with red and yellow LED lights as well as a reflective gate arm, which improves visibility for all road users, allowing them additional time to react and respond to the work zone up ahead. In fact, a recent study found that having an AFAD onsite can lower vehicle approach speeds from road users and even encourage them to stop further back compared to using a traffic control person.
AFADs are equipped for temporary short-term traffic control at most work sites. They are small enough to be used in areas where roads have narrow shoulders but are powerful enough to handle large amounts of traffic without fail– a truly versatile solution!
PTL2.4LD: Portable Traffic Signal Light Duty
If you want to completely eliminate the need for flaggers on your short-term work site, look no further than North America Traffic's Portable Traffic Signal Light Duty PTL2.4LD.
The portable lane control signal considerably reduces the risks posed to workers while saving you time and money on work-related accidents and mistakes. Ideal for a variety of short-duration road work projects, from lane closures and crossroads to intersections, the PTL2.4LD can be set up in minutes by a single worker.
Curb Flagger Fatalities and Injuries with NAT's Safe Solutions
It's time we finally do something about the uptick in construction flagger fatalities and injuries. At North America Traffic we offer innovative traffic control solutions that work– and work well. Trust us for quality solutions that will improve safety around your work zone.
Contact us today to learn more about our traffic control solutions and how they can curb flagger fatalities and injuries while saving you money and increasing on-site efficiency.