Confronting Challenges on Your Short-Term Job Site with the PTL2.4LD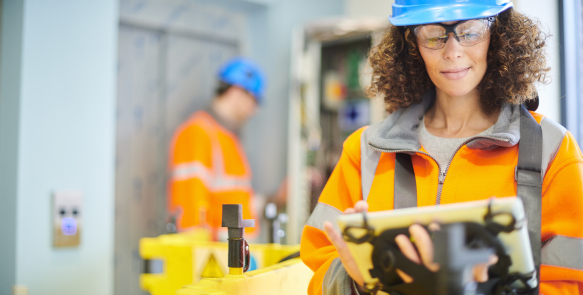 Short Term Job Site
Temporary traffic signals and other traffic control devices should be dependable, efficient, and cost-effective so that workers can achieve optimal results on their job site. As a long-time manufacturer and supplier of temporary traffic signals and traffic devices, North America Traffic strives to design products that are affordable without compromising performance. Our PTL2.4LD (light duty) is a portable lane control signal that can be used to replace flaggers on short-term sites. It can be moved by-hand, which makes set up fast and easy, and is ideal for a wide variety of road work projects.
Work Zone Safety's guide on temporary traffic control, "Guide to Short-Term Stationary, Short-Duration, and Mobile Work Zone Traffic Control," prepared by Wayne State University for the Federal Highway Administration (FHA), examines the challenges that are specific to short-term job sites. The guide offers workers, professionals and specialists options on how to best address the dangers that workers and civilians might encounter.
Wayne State University's guide discusses the importance of using temporary traffic control devices on job sites to "accommodate the safe and efficient movement of road users through or around work zones, while providing protection for other road users and workers." As industry professionals for many years, North America Traffic understands that, regardless of how quickly a job is completed, even "short-duration" or "short-term" projects have the potential to be very dangerous. Projects that take up less time and space still have specific challenges, hazards and concerns that workers must overcome to secure not only their own safety, but also the public's safety.
Maximize Your Time with a PTL2.4LD on Your Job Site
Now that more workers are starting to hold themselves, and their employers, accountable for safe workspaces, and are participating in OSHA training, there's no better time to consider how you can take responsibility for implementing new standards on your job site. Regardless of whether you're an employer or employee, a PTL2.4LD is a device that will help you reach your deadlines and comply with safety standards enforced by the Manual on Uniform Traffic Control Devices (MUTCD) and National Electrical Manufacturers Association TS-5 (NEMA).
The PTL2.4LD has the following features:
· Dual-head, LED signals to maximize visibility for drivers and other workers.
· Radio communication can be used up to 1 mile (1.6 km) away, allowing workers to monitor and operate the PTL2.4LD from a safe distance.
· Follows standards that are outlined by MUTCD and NEMA TS-5.
· Capable of running for a maximum of 14 days without sunlight; the 100-watt solar panel enables an increased run time.
· Reduces need for flaggers who might find themselves at risk amidst oncoming traffic.
· Pre-programmed traffic cycle times can be changed "on the fly" to accommodate traffic volume.
· Lightweight, compact design engineered for easy transport, set-up, and tear down.
And, for your diverse applications, our PTL2.4LD has a variety of optional add-ons that can be used to make your job easier and work site safer. Features like the Intrusion Alarm can be added to your portable traffic signal to alert workers and individuals that a vehicle or pedestrian has entered the work zone. Using infrared technology, the Intrusion Alarm can help you prevent accidents before they happen.
Other features, like the Remote Monitoring System (RMS), allows you to monitor the portable traffic signal 24/7. You can keep your equipment safe even after hours by checking battery power or even the location and power of your device. You won't have to worry about whether your portable traffic signal has enough battery to carry you through the rest of the project. These are just two of several options that can help your portable traffic signal stay operational and keep your workers safe: we've got everything you need to make safety easy.
A Temporary Traffic Signal that Works with You
Are you ready for the PTL2.4LD to join your team? Our traffic control products don't just work for you; they work with you as a seamless member of your crew. The PTL2.4LD will support your existing efforts to create a safer worksite and can save time and money associated with work-related accidents or mistakes. Keep your crew safe and meet your deadlines – find a dealer near you to get a PTL2.4LD working on your site. Your journey toward a safer workplace starts with North American Traffic!
Tags:
|
portable traffic signal