AWF2.8: A Temporary Traffic Signal Made for Long-term Solutions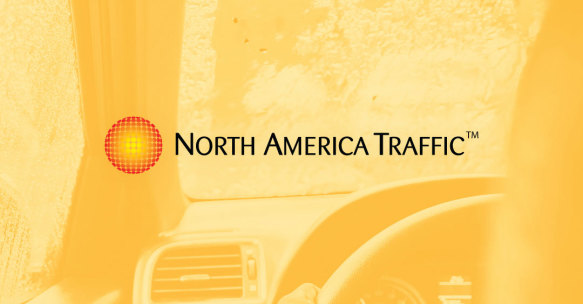 Visibility is a crucial component of safety on roadways. Regardless of whether you're a pedestrian, driver, or a road worker, knowing what's ahead increases your safety, as well as the safety of those around you. At North America Traffic, we want to make sure that our customers, and the people they meet on a job site, know what's up ahead.
And, no matter where the road takes you, be it a familiar drive home or an exciting road trip, you shouldn't have to rely on intuition to navigate unfamiliar (or even familiar) roads safely. Citizens and workers need a reliable warning system that secures their well-being.
The Right Combination of Simple and Sophisticated
Cue the AWF2.8: North America Traffic has developed an Advanced Warning Flasher that will take the guesswork out of roadwork sites. This portable traffic signal is proven to optimize road work site operation and safety. We've carefully built this device to ensure that it's effective and efficient for workers to use, protecting them, as well as pedestrians and drivers, from fatal accidents that occur as a result of poor visibility.
Its unique technology communicates with our Gen 3 Portable Temporary Traffic Signals, or operates on its own, to get you ready for what's ahead. The AWF2.8 is a warning signal you can feel good about.
AWF2.8 Features:
Distinct flashing pattern captures the attention of motorists & warns them about stoppages ahead.
Lightweight with minimal footprint: won't take up valuable space on the jobsite or interfere with visibility.
8 can be paired with other North America Traffic portable traffic lights.
The portable traffic signal communicates effectively with lights to provide advanced warning to anyone passing through the job site.
Boasts up to 21 days of operation without sunlight. Includes a 120VAC charger and a 100-watt solar panel.
2 X 12" yellow LED lamps mounted horizontally above warning signs.
Warning signs compliant with the Manual on Uniform Traffic Control Devices (MUTCD)
Our portable traffic signals are always user-friendly and designed with the end-users in mind. Years of expertise and interaction with industry professionals have provided us with invaluable information that has (quite literally!) shaped our product designs. By simplifying remote controls, and integrating a synchronization system, we've been able to consistently design equipment that is easy for workers to operate. North America Traffic portable traffic signals are a must-have on any short or long-term job site.
No Job Duration Is Too Short or Too Long for the AWF2.8
So, are you working on a job? Are you in it for the long haul, or will it be completed after only a few days? Our portable traffic signals can accommodate either scenario—they'll work as hard as you do no matter when, or how long, you need them.
Fast and Effective on Short-Term Sites
Short-term projects need temporary support. The AWF2.8 is installed quickly and easily on a job site without taking up valuable space. Its small footprint will ensure that space is maximized for drivers, pedestrians, and workers who are on and around the site.
Spontaneous roadwork can cause traffic delays and frustration for drivers who are not used to encountering construction. This variance in their everyday routine is hazardous to citizens, since a newly erected job site will be unfamiliar to them. The AFW2.8 lights will not only improve existing visibility but warn drivers to slow down and to pass through the zone at a safe speed. As a result, drivers will become more alert and will be more likely to proceed with caution.
Slow and Steady for Long-Term Use
Slow and steady wins the race! And a race through a construction site is exactly what we're trying to avoid. You and your crew need the consistency and security from a portable traffic signal during those long-term projects.
A portable traffic signal will alert drivers that the site ahead is active, and that there are workers who are on the job. Visible warnings are crucial on long-term job sites since passersby may be accustomed to the ongoing construction, and therefore are not fully aware of their surroundings. The AWF2.8 has an impressive battery that will hold a charge for up to 21 days without sunlight, which is ideal for consecutive operation in a variety of weather conditions.
Flexible Solutions for Safer Work Sites
Our portable traffic signals are functional, affordable, and increase the safety and productivity of your job site. Don't wait for an accident to happen, prevent it with a portable traffic signal. Safety doesn't have to be time-consuming or scary: safety is simple.
Call us today to make a safe addition to your short or long-term project!