Liddell Brothers Named to Represent North America Traffic Portable Signals in Massachusetts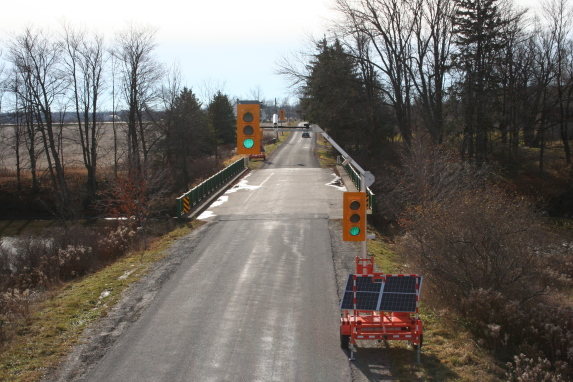 Halifax, MA – One of the country's most established specialists in traffic control equipment is now the authorized dealer for the industry's innovation leader in portable traffic signals and AFADs (Automated Flagger Assistance Devices) in Massachusetts.
Tim Liddell, Vice President of Liddell Brothers Inc., announced that his family's firm has concluded an agreement to represent North America Traffic (NAT) throughout Massachusetts. Liddell Brothers' rental fleet will now include NAT's complete line of Portable Traffic Lights (PTLs) and AFADs. As the originator of the AFAD concept, with more than 20 years experience in advanced traffic signals technology, NAT is acknowledged as the leader in work-zone traffic control devices.
Focus on Traffic Control
Liddell Brothers was founded in 1972 to supply contractors and municipalities with traffic control devices such as drums, portable message boards and traffic cones. The firm also operates as a general contractor for traffic safety and improvement projects, as well as subcontracting in specialized projects including overhead structures, work zone barricades and sign installation.
Jordan Sherlock, General Manager at NAT, said that Liddell Brothers was an ideal choice. "Liddell Brothers is highly experienced in a number of areas related to road and bridge construction – they understand our customers' side of the business. They are also highly focused on traffic control and safety, so they are well positioned to represent the value of our technology to customers."
With more than 100 employees on staff during construction season, Liddell Brothers is one of New England's best-known contracting and equipment rental companies. "Our logo is a well-recognized symbol of traffic safety setups in this region and beyond," Liddell claims.
Reliability for Work-Zone Safety
Sherlock explains that their relationship began over a year ago to meet the job requirement on a bid in Rhode Island. "We had looked into portable traffic signals for a few years," says Liddell. "The NAT equipment appears to be better built, which is very important to a rental business. The equipment is always in use, and we are responsible for maintaining it. And since our product is safety, the equipment we supply has to be reliable."
Liddell notes that NAT's user-friendly set-up and attractive pricing were also factors in the decision to commit to the NAT line. "They are a well-established company, and we feel the prospects are good for this type of business. Infrastructure projects in the region are getting funded now: Rhode Island alone has 8 or 10 projects in the works to rebuild bridges. These are ideal opportunities for PTLs."
With new units arriving at Liddell's rental yard, NAT staff has also been on-site to train the firm's delivery and service staff. On-site service to fielded employees include three Liddell technicians, along with a dozen staff in the store and in the yard. "We do all the maintenance on our equipment for customers," says Liddell. "They are building a bridge; they don't want to worry about traffic!"
About North America Traffic Inc.
North America Traffic was launched as R.C. Flagman in 1993 when Peter Vieveen built the world's first Remote Controlled Flagman™ out of his garage. At the time, Mr. Vieveen was a Senior Estimator in the construction industry with over 25 years of construction experience. He understood the importance of reducing costs while increasing safety. North America Traffic now operates a full production facility, and its products have been used on thousands of projects across North America. Today, the company is the leader in traffic control systems, with 4 different models of portable traffic signals and Automated Flagger Assistance Devices to meet all traffic control needs.