Continuing Evolution Leads To Safety Leadership As North America Traffic Celebrates 25 Years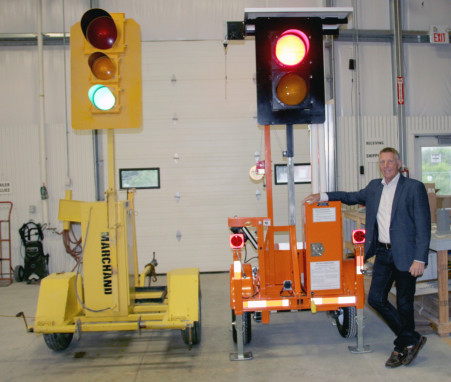 Port Colborne, ON – Twenty-five years ago, Peter Vieveen was just a man in his garage, hoping that the idea he had spawned might lead to a more secure future for his family. Today, his idea has become the benchmark for work-zone safety standards throughout North America – and Peter is enjoying a well-earned retirement.
Innovation spurred by insight
In 1987, Peter was a project estimator on a waterline project near Binbrook, Ontario. In those days, the prospects for someone in his position to retire comfortably were slim and Peter was actively thinking about ways to avoid relying on the goodwill of his employer. His experience gave him a wide perspective on the ins and outs of jobsite logistics and this led him to a revolutionary insight.
"As a costing expert, I realized that the project could save a huge amount of money by replacing a flagger holding a sign at the side of the road, with a remote-controlled stop light. Flagging is a grueling, thankless, dangerous job. There is a very high turn-over in that job – often a flagger got his pay cheque at the end of the week and wouldn't show up for work the next day." An automatic flagging device, he figured, would eliminate the absentee headache and could save contractors about 75% of the cost.
Peter drew up some initial sketches of his concept and stuffed them in a drawer. It was five years later before he decided to build a working prototype and put it to the test on one of his projects.
World's first AFAD
Assembled in his garage at home, the first Automated Flagger Assistance Device (AFAD) was a standard Red, Amber and Green traffic signal mounted on a pole and attached to typical parking lot control cabinet with a gate-arm. Simple, but it worked as he hoped. He produced a short video of the machine in operation and took it to the Ministry of Transportation of Ontario (MTO).
MTO was interested in the notion and, that summer of 1994, they evaluated Peter's AFAD on a busy two-lane stretch of Hwy 50, just north of Toronto. By the fall, Peter and his RC Flagman company were in business. The original AFAD is now one of a diverse range of portable traffic signalling and control used in applications from highway construction to bridge repairs to military checkpoints. Their maker, RC Flagman Inc., is better known today as North America Traffic Inc., with a nation-wide network of dealers and service agents.
Power shift: diesel to solar
Peter's first prototype, which he then called the Remote-Controlled Flagman was an effective proof-of-concept but, as he was about to learn, not a successful foundation for building his new business. The rig was mounted on a trailer and powered by a diesel generator. For the next 5 years, as he tried to get his innovation off the ground, Peter continued to work a part-time job. Assembly of the flagger units was still completed in his garage, with welding and painting subcontracted to local shops. He was selling units to local rental houses, but approvals from other provinces or any authorities in the US proved hard to obtain. Much of his time, meanwhile, was spent out in the field maintaining and troubleshooting his flagger units for customers.
"It was a great concept but a bad design," he can now admit. "Being powered by a generator, every rental meant more time on service calls for the vibration of the generator caused a lot of break downs. My dealers didn't know anything about fixing the machine, so I had to make every service call myself. And I'm not even a mechanic! So it was a bad marketing strategy, too."
A critical turning point
Peter relates how, at the end of one trying day, he pulled over to the side of the road to take stock of his business model. "I parked there and wrote down every one of the problems that was blocking my success. I had 15 on the list. Almost all of them related to the generator. I'd been able to sell off my ten diesel units to those dealers. But in my shop were my first two models using battery power with solar collectors. I realized that, if I could continue using batteries, I could eliminate 90% of my problems! That was my turning point moment."
In 1998, Peter changed his design to operate exclusively on solar-charged batteries. At the same time, he shifted his marketing focus. He began renting directly to contractors instead of selling to rental houses. "I would let a contractor try out the machine for a day for no charge, but within an hour I had a rental agreement from him. Why not? At the time, a guy with a flag would cost $5,000 a month. Rental for my remote controlled flagger was $1,250 a month." Within two years of those decisions, the flagger business required Peter's attention full-time. Production moved out of his garage and into rented shop space. And Peter was bringing more ideas to market.
Unravelling red tape
He spent a year travelling across Canada to demonstrate the new devices to provincial transportation departments and rental companies. Approvals were slow to come, but Peter soon found that his approval letter from the Ministry of the Transportation of Ontario would open many doors. By 2002, acting on requests from his customers, RC Flagman added solar-powered Portable Traffic Lights to its rental inventory. Operations moved to a 4,000 sq. ft., shop in Welland, Ontario.
Attempts to reach contractors in the US continued to face regulatory obstacles. The tide began to turn, slowly, as several State DOT's awarded interim approvals to conduct trials on their roadways. Automated flaggers finally achieved a major foothold among roadbuilders when the 2009 Manual of Uniform Traffic Control Devices (MUTCD) was released with a new category for Automated Flagger Assistance Devices (AFADs). The new guidelines were modelled directly from Peter's AFAD specifications.
The value of the AFAD for keeping workers out of harm's way was not lost on US authorities. With federal approval in place in 2006, the US Marine Corps purchased heavy-duty units for use in Iraq, allowing troops to remain under cover while they operated their check points.
Acceptance and recognition
"NAT's expertise in traffic controls has led customers to bring their problems to us," which says Peter, "in turn, led us to a very active R&D program. Our core products have expanded into several Portable Traffic Lights solutions. We simplified our remote controls and synchronization systems to make setups faster and more intuitive. And we have implemented a wide array of sensor technologies to activate our signals with motion-sensitive, proximity and other detection devices."
In 2007, Vieveen and company were on the move again, building a new 12,000 sq. ft. facility in Port Colborne, Ontario. Acknowledging the growing line of signals and related devices, the business name was changed to North America Traffic Inc. (NAT). Since then, the shop has expanded twice more, now totaling 25,000 sq. ft.
Success brings new limits
The company had achieved sales success and an international reputation for innovation and service. But Peter began to recognize new limits to his growth potential. It was time for another change in the work-zone signal business.
Peter recounts a number of factors driving the next step in NAT's evolution. "By 2013, expanding DOT approvals were giving us access to a growing number of customers. Contractors on State and Federal projects were getting to know us. And so were dealers who wanted our product. We also found copycat products making their way into the market. Our end users rely on us for training and service within one-day's drive of their project. That distance became the limit to our growth. We had to do things differently again."
Rebuilding a service network
To support customers effectively over expanding territories, NAT began to look again at building a network of specialized dealers who could sell, rent and service their portable signal systems. That meant pulling out of the rental business. "You can't rent to a contractor and then expect a dealer to buy from you" Peter says. "We had to ally with dealers that could deliver enough sales to match the profitability of our former rental business. We couldn't be competing for rentals in the same territory. Our role had to change: to invest in product development, dealer support and training. As we found the right people, we shared our customer base and leads to get them started. And we turned our focus toward being a nationwide force for work-zone safety."
Peter had already started developing the leadership in NAT to take on the new direction. "In 2012, I formed a new executive management team. Any important decisions had to be agreed to by all three of us. Our Vice-President of Operations, Dave Cornish, is a long-time employee with keen insight and experience into our production processes. Jordan Sherlock, building on his tenure managing NAT finances, previously serving as our General Manager and now takes the reins as President."
Manufacturing leadership
NAT excelled at customer service and field support. Under its new executive, the company set a course to become better as a manufacturer. Jordan and Dave led the company to implement new initiatives in ERP Software, inventory control and R&D. "When we first built machines, we didn't have a quality management system in place," says Peter. "But we decided that every time something went wrong, we'd write a procedure to prevent it from happening again. This way, our quality management system grew over the years. Today we are operating under the ISO 9001:2015 quality standard."
The company quickly overcame its "one day's drive" limit with its expanding sales network. Angela Verde, NAT's Vice President of Sales, has cultivated its growth into nearly 60 dealer branches supporting customers throughout the US and Canada.
Time to make a difference
Looking into the future of NAT, Peter counts himself extremely lucky to have a great management team looking after the day to day operations. "I'm most proud of knowing that I can trust this company to my employees. If you can't trust your team, you can't retire – you can't even leave the building! With our current group, I enjoy life in Florida during the winter months, golfing in my hometown during the summer and traveling in Europe."
Though he is retired, technically, Peter remains actively involved in getting NAT's message out on safety. "Awareness of our technology is still a problem," he believes. "Government and contractors don't want to spend the money until there's an accident and they feel the real costs. Our operating cost is under $2/hr, but nothing involving Government happens that quickly."
His goals currently include getting changes made to FHWA standards and OSHA regulations for roadway work zones. He has also been attending ATSSA and NCUTCD meetings to learn about industry pain points and then broadcasting them to the industry. He sees distracted drivers as a real problem today, because they don't necessarily see the flagger or the advance warning signage "There's been progress," he reports. "The Towards Zero Death Strategy in Europe is getting attention in the US. In BC, WorkSafe guidelines do not allow flagger crews anywhere that speeds exceed 70 km; the site must use remote controlled signals. Some states are adopting AFADs as an alternative to rumble strips in their standard drawings. We just have to stay focused on what the final goal is and realize our small victories along the way."
North America Traffic and staff will be celebrating and recognizing 25 years of business throughout the balance of 2019.
Click here to read article on Construction Equipment Guide.com