Safety, Compliance, and Your Traffic Management Plan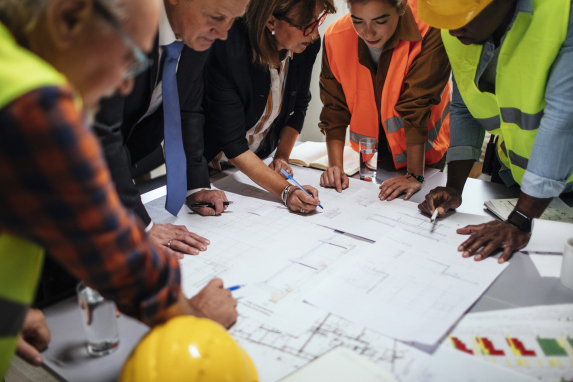 When it comes to roadway construction, safety is paramount.
Whether you're building a new road or repairing an existing one, you want to ensure that your project stays organized and on track while also ensuring optimal safety for the workers and drivers who will be using the road. This is where a traffic management plan comes in.
Today we'll explore what a traffic management plan is, why it's important to ensure optimal safety during roadway construction and how North America Traffic can provide the traffic control systems you need to create the most efficient one.
What is a Traffic Management Plan?
A Traffic Management Plan (TMP) is a document that details how traffic will be managed during a construction project.
Upon considering the type and location of construction, as well as the expected volume of traffic, the plan should include information about how the project will be coordinated with other projects in the area, and how traffic will be diverted if needed. Your Traffic Management Plan should also include details on how to communicate effectively with drivers and pedestrians to ensure all parties remain safe during the entirety of the project.
The Traffic Management Plan should be created early in the life cycle of the project and maintained throughout the duration of construction. The plan should be reviewed at regular intervals, with particular attention paid to changes in traffic flow patterns and new traffic management needs that may arise during construction.
Why is Traffic Management Important?
Traffic Management Plans are essential for any construction project. They can help you avoid hazards that could lead to failed projects and instead, ensure that your project goes smoothly and is completed on time.
A carefully thought out Traffic Management Plan ensures that there are no interruptions to traffic flow during the construction process. This helps to maintain the safety of all road users—including pedestrians, crew members, and motorists—and also improves the overall efficiency of your road construction site.
Below we'll explore some of the top benefits provided by traffic management plans.
Enhanced safety for all
A traffic management plan is an essential part of your site's safety measures. With a traffic management plan locked and loaded, you can be sure that appropriate measures are in place to protect pedestrians, motorists and your crew. Traffic management plans can also be used to educate crew members on existing traffic control measures in place, furthering on-site safety.
Avoid Delays
In any project, there are going to be significant challenges that come up. One of the most common is delays due to unexpected problems or unforeseen circumstances. It's important to have a plan in place for how you'll deal with these challenges, and that includes managing traffic flow within your project area.
A traffic management plan will help you coordinate with other departments or teams who may need access to your construction site during the course of the project. It will also allow you to identify potential issues before they arise and create an action plan for dealing with them when they do arise. This ensures that everyone involved knows what their role is, what they should be doing, and how they should be communicating with one another throughout the duration of their involvement in the project.
Reduced traffic congestion and Improved Air Quality
One of the most important parts of any construction project is how you manage traffic. If you can't get people to where they need to go, it doesn't matter how much work you do.
With a traffic management plan that includes detours, lane closures, and NAT's portable traffic signals, you can greatly reduce the amount of traffic going through your construction site. By reducing the amount of time that people spend waiting for lights to change or waiting for cars to turn left or right, you'll have less congestion on roads and fewer accidents caused by distracted drivers.
And get this– reduced traffic congestion means better air quality. It's a win-win! By effectively managing traffic flow and reducing congestion through effective traffic management plans you too can help mitigate the effects of climate change and create healthier, more sustainable cities.
Key Components of a Construction Traffic Management Plan
When it comes to traffic management, there's no one-size-fits-all. Depending on several factors, including the expected flow of traffic, time of year and your industry, your plan will have different requirements.
However, there are some basic requirements that all traffic management plans should include:
Hours of Work and Duration of Works
Project Details
Traffic Management System
Traffic Management Layout/Drawing
Phasing of Works
Traffic Management Signage
Speed Limits
Road Level
Design Parameters
Site Access & Egress
Communication and Emergency Procedure
What is a Traffic Management System?
A traffic management system is a vital component of every construction traffic management plan. It includes the type of traffic control measures that will be employed to direct vehicles and pedestrians around the roadwork while ensuring the utmost safety of all crew members.
Below are some of the common methods of traffic control:
Two-way Traffic
Stop & Go
Temporary Traffic Signals (portable traffic control lights, flagging devices, etc.)
Road Closure
Lane Closures
Priority
Give & Take
Mobile Lane Closures
Semi-Static Operations
Make NAT a part of Your Traffic Management Plan
When it comes to traffic control, you can't afford to skimp on quality or rely on outdated methods. That's why we offer a line of innovative portable traffic signals and automated flagger assistance devices that are incredibly durable, and easy to use. Each of our safe solutions features LED lights that make them highly visible to approaching motorists and they can be customized with intrusion alarms so you can be notified if a vehicle has unsafely entered your work zone.
To learn more about how our line of leading traffic control systems can assist with your traffic management plan, contact us today.