Controlling Residential Traffic with the DAD3.9 Driveway Assistance Device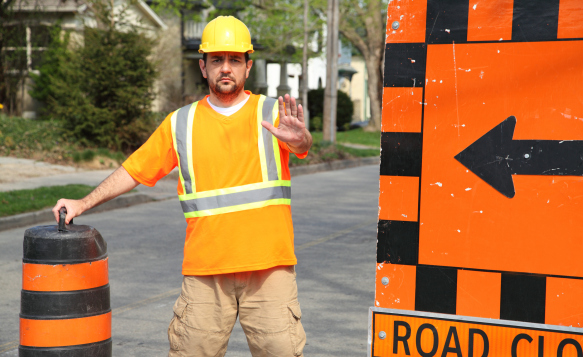 With so many ongoing construction projects on major highways across the country, we sometimes forget that construction also often happens close to home. Despite frequent stops and limited posted speeds, there are still many dangers associated with road work in residential areas.
Between 1999 and 2016, there were 309 worker deaths in Ontario's road construction industry. In the United States, the Bureau of Labour Statistics reports that 1,844 road workers lost their lives on the job between 2003-2017, a rate averaging 123 deaths per year. Of the 762 total work zone fatal crashes to claim the lives of workers and civilians alike, 31 took place on local roads.
The use of traffic control devices is one of the most effective ways to ensure that workers and motorists are equally protected while travelling in work zones. According to the Manual on Uniform Traffic Control Devices (MUTCD), traffic control devices provide the user with "limited, but essential, information regarding regulation, guidance, and warning."
Since 1994, North America Traffic has been an industry leader in the development of traffic control devices. Our company was founded upon five core values—effectivity, innovation, pride, commitment, and integrity. These values have driven us in our twin pursuits to improve worker safety in work zones while bringing new efficiencies to businesses. North America Traffic has consistently been at the forefront of advancements in solar, LED, battery, and PLC technologies that have allowed us to expand into the production of Portable Traffic Signals and other trailer-mounted, automatic signaling devices.
If you need to manage traffic in a work zone with a lane closure, and there are driveways within that zone, we have the solution. The DAD3.9 Driveway Assistance Device is a safe and efficient way to manage residential and business traffic exiting driveways and/or side roads within these zones.
This device is designed for long and short duration work zone projects and complies with both MUTCD and NEMA TS-5 standards. The DAD3.9 can be easily synced with up to 18 other DADs and two Portable Traffic Signals for a total of twenty devices within a single work zone chain. It must be paired with at least one Gen 3 Portable Traffic Signal.
The DAD3.9 is best deployed in work zones where multiple driveways and lanes are affected. These zones can be confusing to drivers who may have difficulty understanding where to go, or how to proceed into oncoming traffic. The DAD3.9's visual interface consists of three 12-inch circular LED lamps—a central red and right/left red arrows to manage traffic flows by clearing indicating to drivers when it is safe to turn in either direction. Linking multiple DADs throughout a particular work zone allows workers to retain a greater sense of control over traffic in a particular area, thereby lowering the risk of accidents and fatalities to workers and motorists alike.
The lightweight and user-friendly design of the DAD3.9 makes it the perfect supplement to North America Traffic's Portable Traffic Signals. The device's small footprint allows for easy set up and tear down, particularly in residential areas with narrow streets, while its efficient solar-powered battery allows for 21 days operation on a single charge, even in low light conditions.
If you are looking for a device which will protect the well-being of workers and civilians in your work zone, the DAD3.9 is the perfect addition to your arsenal! To learn more about this device, or request a quote, visit our website today!